Yesterday was our last full day on the ship. In the afternoon, we anchored at Santorini. Like many of the Greek islands, Santorini was formed by volcanic activity. After it's formation, it was a single populated island until the volcano at its center erupted again and pushed the center of the island under the sea. Now the main island, Thira forms a crescent around the volcano and a huge lagoon rests in the middle. Many people believe that the story of the Lost City of Atlantis is about the collapse of Santorini.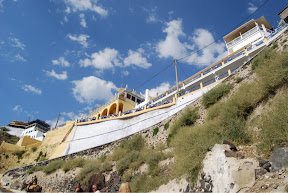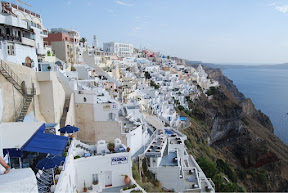 Santorini is absolutely beautiful. From the ship, we could see the iconic white and blue houses and shops atop the high cliffs. Because of the steep approach, we rode donkeys up the switchbacks into the main town of Fira. We shopped around with friends for a while and then had drinks and appetizers with an amazing view of the bay and volcano. It was a great way to end our trip.
Today we are back in Athens for our last night. We are grabbing last minute souvenirs and repacking our bags in preparation for our flight home tomorrow. It has been an amazing and absolutely unforgettable trip. We have made great friends and seen amazing places. After everything, though, we are looking forward to going home. We can't wait to sleep in our own bed, eat In N Out and most of all to see our friends, family and our puppy!
- Posted using BlogPress via my iPad from Athens