Yesterday we spent the day on the Island of Capri. It's not surprising that this is a favorite vacation spot of the rich and famous, because it's a beautiful place. From Sorrento, we took a ferry across to the island, which has two towns, Capri and Anacapri. Jake and I really needed a day to relax and enjoy the scenery after busy Rome, so being in Capri was perfect.
We spent several hours on the beach. The beaches in Capri are made of rocks, which is pretty interesting (and painful) for kids from California like us. The water is also VERY warm and clear and pleasant. We spent a good chunk of our morning just watching Italians go about their beach day. It was endlessly entertaining. We saw old men (and young men) in speedos, women with deep dark tans and our personal favorite, little Italian children having precious little Italian tantrums... intonation included. MAMA!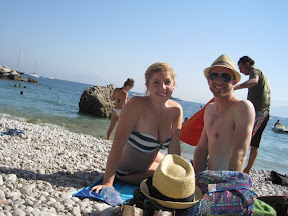 After the beach, we had lunch at a little cafe and then wandered the shops looking for postcards and little souvenirs. Later, we hiked up to a higher part of the island and watched swimmers and giant yachts. We ended our day in Capri with another swim and went back to our hotel in Sorrento tired and happy.
Today we will be traveling all day as we move to the Port of Brindisi and take an overnight ferry to Corfu. We are a little bit sad to be leaving Italy, but are confident we will find our way back some day.
- Posted using BlogPress via my iPad from Sorrento