After a couple of nights in Corfu, we had a travel day into Athens. Athens is a colorful city, full of open air markets and covered in graffiti. I'm sort of a graffiti enthusiast, and though I certainly don't condone destruction of private property, I really enjoyed all the public works of art.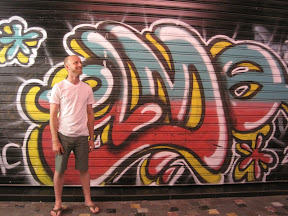 On our first night, we had dinner at a lovely restaurant in the Plaka, a pedestrian market area. There was live Greek music, plenty of feta cheese and the most tender chicken we have ever eaten. After dinner we made our way up to the roof of our hotel for a panoramic view of the city and the Acropolis.
The next morning, we climbed up to the Acropolis and had a walking tour of the various monuments. The Parthanon was beautiful, but my favorite was the Temple of the Wingless Victory. It is fairly small and sits right atop the main gate. Legend has it that the temple once housed a statue of Nike, the goddess of victory, as a monument to a successful war for the Athenians. Nike was personified as a young woman with wings, so the Athenians cut the wings off her statue as a way to ensure that victory would always remain with Athens.
After the tour of the Acropolis, we took a bus tour of the city, which is surprisingly modern looking, despite its long history. Apparently, the whole of the ancient city is buried underneath the modern one so that every time excavation of any sort has to be done for a building or tunnel, thousands of artifacts are dug up.
We returned to the hotel and observed siesta, just like the Greeks do. Then we spent a couple hours shopping our way around the Plaka. We met some very vibrant characters, including a man who squeezed our faces and kissed us repeatedly, telling Jake he looked like a Greek god and repeating how much he loves America. Inside his shop he had hundreds of business cards of Greeks living in the U.S. It turned out he had lived in California himself for many years, just a few cities over from us in San Jose. He gave us lucky pennies and reminded us that it costs nothing to be nice. Another man, a jeweler, showed us pictures and post cards from his nephew who happens to work just across town from us at Steven's Creek Honda. It's such a small world and we really do love the Greek enthusiasm for life, family, friends and prosperity.
On the second evening, we had a delicious dinner followed by drinks and dancing. At the end of the night, we had to say goodbye to many of our new found friends who weren't going on to the optional cruise. It was a little sad, but lovely to know that we have friends across the world that we have an excuse to visit!
- Posted using BlogPress via my iPad from the Aegean Sea