On Friday we boarded our cruise of the Greek islands at Pireaus, a port in Athens. We are sailing on the Louis Majesty for three days. This ship is 40,876 tons with 10 decks and six restaurants. Even though it can be tight quarters for 1,100 people, our room is still much bigger than some of the hotels we stayed in on land! During the cruise we will dock in Mykonos, Kusadasi (Turkey), Patmos, Crete and Santorini.
Yesterday, we arrived in Mykonos in the afternoon. Mykonos is a small town and island which you can walk all the way around in under an hour. The buildings in Mykonos are iconically Greek, with white washed walls and blue shutters. They are built closely together and in a winding labyrinth pattern as a way of protecting the little city from strong winds, so you can easily get lost in the very narrow streets, but you can always point yourself towards the sea and find your way out. It is also well known for it's six remaining windmills, which sit atop a hill near an area right on the water called Little Venice.
Mykonos is bustling and alive, especially after the sun sets and the little cocktail bars and shops begin to glow. We wandered down the coast and around the island to the windmill side and had a drink and appetizers at a restaurant in Little Venice. Our table was RIGHT on the water... we got misted by every big set of waves. We had grilled feta and calamari. It was by far the freshest and best calamari we have ever eaten.
After sunset we turned in towards city center and got a little bit lost on purpose, then wandered the shops and headed back towards the beach just to sit for a little while.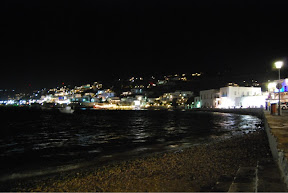 - Posted using BlogPress via my iPad from the Aegean Sea